Goynche Niz Mogi stands for Courage, Wisdom and Truth, as the main basics to conceive, create and give shape to a new Goan socio -economico - political reality, actively promoting the genuine interest and development of Goa and Goans.
Greed :
The Goans sold their votes for money, food and drinks. The Goans kept bringing to power, the very people who sold Goan land to land sharks, contracts to contractors of questionable character and Government jobs and contracts to outsiders. Today, our politicians have permitted indiscriminate constructions, as well as destruction of Goan hills and forests.

Selfishness
Mess In Goa?....... Me???....... I don't have the time says The business men, A Lawyer, A Teacher, A Govt. or Pvt. employee, The Religious men & women, The House wife, The Retired, the Journalist.
They say we must not do any thing to clear the mess in Goa. They say we should pass our days making money eating and drinking.… For…. Jesus Christ, Lord Krishna and Prophet Mohamed, Will Come And Clear The Mess In Goa. ….
Goodness of the Goans :
However, I believe in the goodness of the Goans, and their inborn character of righteousness, that Goans will not permit the present and past (ER's) to push Goa and Goans into the Arabian Sea. That Goans will not permit Goa, to become another North East, where the people, resorted to bombings and killings, as everything that they owned, including the jobs, were taken away by the outsiders.

Our Objective: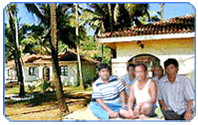 To give Goans a better way of life, a better standard of living, a better spending capacity, and make Goa a better place if not the best place to live in. GNM does not believe in bringing about Political change for the sake of change but rather, to improve the life of the people, bring back the original magnificence, glory and beauty of Goa. GNM will consider itself as a failure if on achieving power, GNM abstains from achieving their goals as specified in their mission statement, their objective and manifesto.