IAS, IPS officers, Olympic Gold Medalist and Scientist.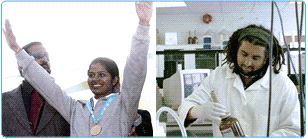 The Government will appoint IAS and IPS officers on basis of contractual appointment, till such time Goans do not graduate from IAS and IPS examination.


An expert committee would be instituted to select potential students of superlative qualities of character, integrity public well wisher, the said students would then be guided and trained to appear for IAS and IPS examination.


Inter ward, inter village, athletic meets will be conducted for boys and girls from age 4 to 14 years. The winners of inter village competitions in all the age groups would be admitted to a special school with lodging and boarding facilities totally financed by the Government besides the schooling the students would be trained under highly talented and successful athletic coaches.


The Government through his search body instituted identify athletes (winners of inter village, inter zonal athletics meets) who could take up one of the various Olympic events. The Government would then admit these athletes to the special school totally financed by the Government where they would be trained in their respective events.


The winners at the All Goa Quiz competitions, with general knowledge as well as specialization in a particular field as well as winners of inter village, inter zonal athletic meets would carry a prize of Rs.5000/- to Rs.1,00,000/-


A search body institute would identify students who could be potential scientist in Agricultures, Physics, Chemistry, Electronics, Engineering, Bio technology and Bio- Engineering as well as various other fields and have them admitted to a special school where there would be guidance to do research in various fields. The school as well lodging and boarding would be financed by the Government.


The Government would identify boys and girls who could join Indian Navy, Army and Air force and admit them to various military schools.