Licensing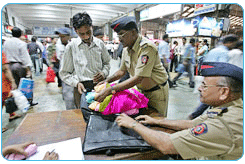 Prelude. A migrant illegally constructs a structure on an illegal land, which as per the Order of the Supreme Court, amounts to a pocket thief and that he should be penalized as a pocket thief, however the government and sometimes with the inadvertent assistance of the Courts, rewards the pocket thief or encroachers, by having his house regularized. And further gifts the pocket thief or encroachers with water and electricity connection, as well as gives him a ration and voters card.


All applications made by locals to build a house/ a bungalow, for his personal use only, should be permitted to construct his house, on the very day his application is accepted, including permission to build a boundary wall.


All application for installation of electricity and water connection to houses constructed for personal use only, should be installed within 7 days of the receipt of the application. Application requesting for death or birth certificates should be granted on the same day the application is received. Applications to include a new name on the ration card should be complied, on the same day, of the receipt. (Made before mid day)

Application to begin any form of legal business on inherited land, should be granted permission on the very day, the application is accepted (Made before mid day) Application requesting for any land or house survey number should be granted within 3 days.


All businesses including hawking worth Rs.5/- to Rs5000,0000000/- will require a license to conduct a business. Traditional fisherman, vegetable, bamboo baskets, and fruit vendors would be required to get the approval from their respective panchayats or municipalities.

Any fishing or activity for commercial purpose, will be required to have authorizations from the concerned authority. Any person violating this section will be considered as an offender and will be fined Rs5000.


All kiosks all over Goa will have their licenses revoked and the same will be handed over to economically tribals SC/ST and parents of handicapped children. The Government will provide interest free goods worth Rs.10,000/- to operate the kiosks money repayable in 60 monthly installments.


All Government markets will compulsorily have 40% of galas, reserved for economically backward ST/SC and parents of handicapped children and others. The benefited persons will have to pay the cost of the gala in 60 monthly installments.


All bars operating from residential houses will compulsorily have to open after 11.00 a.m. All licenses transferred in the names of other businessman without the authorization of the concerned department will be retrospectively revoked from 1990 onwards.